Tarigo delivers Product Excellence
We've trained over 21,000 product managers in 30 countries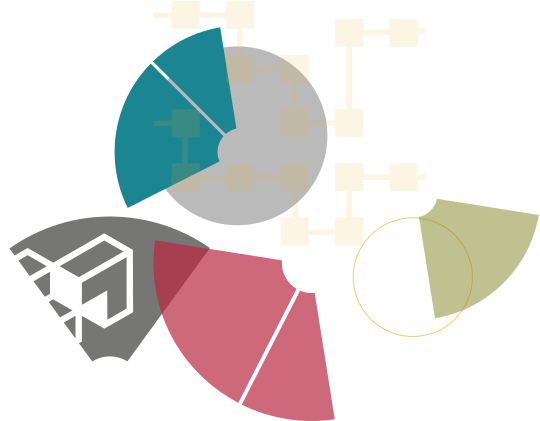 Product management training delivered online or face-to-face.
You choose the option that suits you and your team best. It could be a combination of both or an entirely bespoke program. No matter what your needs are, we're here to help you decide how to get the most out of our training and expertise.
Choose from our training options

Product Foundation
Self-paced | GuidedOnline
Self-paced Product Management basics. Our Foundation course is an ideal starting point for those completely new to product roles and the perfect baseline for those connected to product.

Product Bootcamp
Accredited | InteractiveLive sessions
Live online, or face to face Product lifecycle training. It's interactive, and for those that want to learn it, as-well as apply it and get feedback. It's already delivered to over 21,000 product professionals.

Product Pro-Series
Leadership | Deep Dive SkillsLive sessions
For Product Professionals who are ready to go beyond Bootcamp, our Pro-Series offers a suite of advance modules that deep dive on the topics that matter.

Product Excellence
Skills Assessment | Roles and RACIConsultancy Engagement
Our complete program to transform product organisations, building consistency on skills, frameworks, tools, templates & processes. Enabling teams to deliver Product Excellence.
What is unique about Tarigo Product Management?
We believe that process is power, and we know how important it is to make sure that for any product management framework to be effective it must fit the organisation's needs. At Tarigo, we have created the 5D Product Management Framework that spans across the lifecycle of a product and is flexible enough to suit any business in any sector with a bit of collaboration.
We work with you to test our process, and modify where needed, to ensure the best process is in place to allow for repeatable success within your organisation. Our framework utilises the 5D's, our sections within the framework that track the lifecycle of a product, the Tarigo Product Management way!
The Tarigo 5Ds
Direct | Discover | Define | Deliver | Drive
Within each of those 5D's is a set of; competencies, tasks, skills, and activities that fulfil the product management role, this can be our standard set or customised to suit!
The 5D Product Framework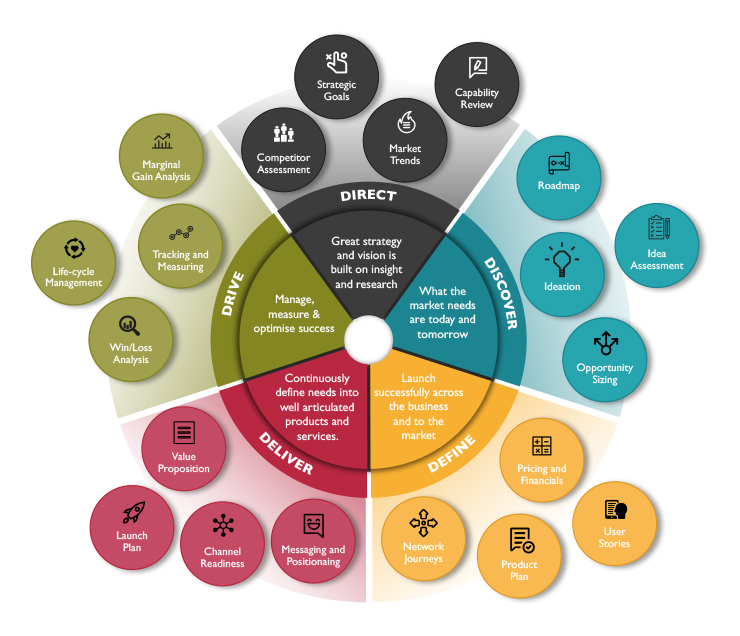 Direct
We understand that great strategy is built on great research, and a strong product vision gives us direction. We'll explore a way to present research and insight, and we'll understand the different routes to achieve a one-page product vision.
Discover
Innovation is our heartbeat; we assess and validate everything. Ideation can be tough, but we can achieve quality ideas using design thinking and brainstorming techniques. We'll also learn that ideas can come from anywhere in the business, what we need in product is a way to assess ideas quickly but efficiently.
Define
We are all about the commercial detail, we'll make informed decisions from product naming to financials, whilst defining the needs for our users, we'll increase our chance of success by clearly defining value for our target personas.
Deliver
We plan our launch with clear customer focus so we can launch with momentum. We understand the need to start early for launch and how to create compelling messaging using the structure of the Message Canvas.
Drive
We continue to provide customer value. Product is never won and done, a lot of our competencies and tasks are ongoing and iterative. So we strive to maintain, improve, and track our product performance, and we continually improve!
Discover how can we help you achieve Product Excellence
Accredited product management training
Our product management courses are accredited by the CPD Standards Office. This means that not only does our training provide certified and recognised training and development, but you can also be certain that you are receiving only the best training in your area. All our training materials go through a scrutinous independent evaluation process that ensures you get the best quality and that we can deliver training to everyone.